Android Emulator is also known as Android simulator, which simulates Android apps and games on a Windows PC. Android Emulators have become a trend all over the world, which has inspired thousands of developers to come up with their version of Android emulator.
In the crowd, only a few were able to make their way to shine in the Android world. Meanwhile, several worthy of Emulators were left behind due to overwhelming competition. We are going to assist you to pick the right Android Emulator program for your Windows PC.
Top 10 Free Android Emulators for PC (Windows 7/8/10)
We have done our research using our Laptops, and shockingly we have discovered the fact that some of the hardware does not support Android Emulators. You will have issues running the programs smoothly on your PC.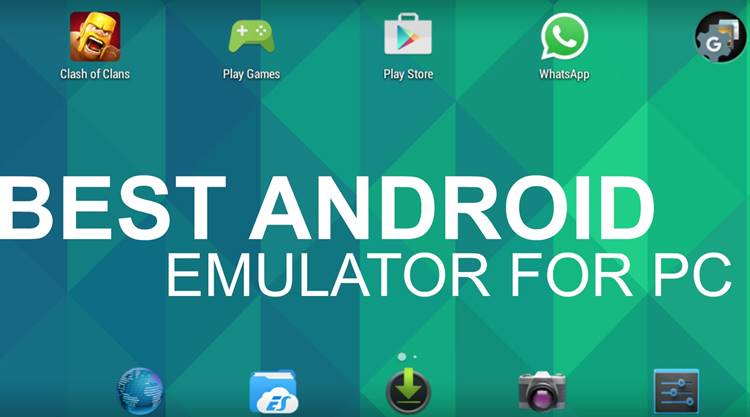 If you are an Intel processor (2009 or later) user, then you should be okay. Unfortunately, some of the AMD processors, which does not support "Virtualization Technology" won't be able to use the Android emulators to its peak.
1. Nox App Player
Among the popular Android Emulators, Nox App Players comes with a fresh and straightforward user interface with additional icons on your home screen. You may spend some time using the program, and you will fall in love with the program.
Coming to the hardware part, it does give you full control over the hardware settings. You can set some cores, RAM and you can even allocate the storage. In case, if you are trouble playing games, then it comes with DirectX or OpenGL graphic modes, which you can switch with one click.
Drag and Drop APK files to install.
Simulate touch (For gaming).
Script record (Assist you to record screen).
Android 4.4 Kitkat, and it is a freeware.
2. Genymotion
Genymotion has joined the top-tier, which adds great value to the community. GenyMotion came out of Android studio and it is meant for development purpose, but there is no rule in the book, where it says it cannot use for personal purposes. GenyMotion requires an account to function, and you can sign up for a free account on the official site.
It supports Android 4.4 to Android 7.0 OS, which receives regular updates.
Screencasting capabilities.
You can play heavier games using DirectX or OpenGL.
GenyMotion comes with plugins for Android studio.
And more.
3. MEmu
If you have a Laptop, which packs the power, then nothing can take your Android experience to another level then MEmu should be your primary choice. The MEmu emulator is Android Lollipop based WIndoes program that helps you to run high-end apps.
It comes with an inbuilt Google Play Store.
MEmu recognizes APK files saved on the PC.
Keyboard mapping, so that you can assign a key on your screen.
Screencasting and Screen recording is available.
The MEmu is bundled with an old Android 4.4, which can be upgraded to the Android 5.0, which happens to be old as well. As long as you are prepared to compromise the most innovative Android 7.0 Nougat for MEmu, then you are bound to fall in love with it.
4. Bluestacks
If you want to win back to back then you know Blustacks is the king to the throne. Bluestacks has beaten and left every Android emulator behind. Bluestacks is an all-in-one Android simulator, where it can run all Games, Apps and other things smoothly.
You just give the Bluestacks a try to understand and experience the potential of it.
5. Remix OS Player
Remix OS Player powered by Android 6.0 Marshmallow, which runs on Windows PC (Only Intel processors.) The  Remix OS Player could have been nominated to the right to the throne but since  Remix OS Player demands "Virtualization Technology" support.
The remix does not support AMD Processors (FLAW).
Inbuilt Playstore.
Multi-tasking (Smooth as cream).
Bundled with all Marshmallow features.
It's freeware.
6. KO Player
The name "KO" stands for martial arts move. Which means the KO Player is all about gaming simulator, which enables you to play HD games without any lag.
Touch Mapping.
Crisp Display feature.
Video and Screen recording capabilities.
Your PC hardware should be decent to play heavier games.
It's freeware.
7. Andy OS
Just to let AMD users know that the Andy OS does not support budget AMD Processors. If you are generous to overlook at the flaw, then you'd love the AndyOS because of the features and performance vice-versa.
You can convert your smartphone into a joystick.
It supports ARM technology, where you can install the app using host desktop.
AndyOS works smoothly on all Intel Processors like Dual-core E2200.
AndyOS is a freeware.
8. Droid4X
Droid4X is known for muscle. When you mention advance level Android simulator, then the first name pop-ups in several experts mind is Droid4X. Fortunately, it supports some of the AMD processors, which is a plus point.
You can download and install Apps and games because it comes with an inbuilt playstore.
The emulator is known for speed and performance, where you will never experience any lag at all.
You can even use the Keyboard to configure a controller for the emulator.
9. AMIDuOS
AMIDuOS is a creation of a major brand "American Megatrends," who is kind of a big deal in their market. DuOS lack a couple of things such as Google Play Store, and it comes with Amazon App Store, which is close to nothing that the Google playstore can offer. However, you can always download the third-party apps from the Internet. AMD processors are being held back because DuOS requires "Virtualisation Technology."
DuOS ships with Android 5.1 Lollipop and Megatrends also offer an option to downgrade to Jellybean. The simulator lacks Keyboard mapping, which will certainly increase the inconveniences during gaming. You must have a decent amount of RAM installed or else you may face laggy functions. With one-click, you can enable and disable root option.
10. Xamarin
Xamarin is a portable Android app player, which is in its early stages. There is always room for improvements. There are few areas it lacks, but if you are an average user, then it should suffice your needs.
It's freeware.
Supports both Intel and AMD processors.
Packed with all necessary features.
Conclusion
Android Simulators are one of its kind. Being able to experience the power of Android on a bigger screen takes your expectations to another level. Shoot your comments in the comment section below.